Air Compression Leg & Calf Massager
Order Processing time within 24 hours
Worldwide Express Shipping Available
Fast Returns>>100% Money Back Guarantee.
Easy Leg Recovery For Busy People
Air Compression Leg & Calf Massager
---
"I was amazed at how well this helped! I work long hours and I'm always on my feet, these bring great relief. I use them for 20 minutes before bed, and don't wake up with leg or foot cramps! So easy."
---
Legs Letting You Down?
If you suffer from restless leg syndrome, muscle stiffness, or excessive fatigue, you might want to hear more about activated air compression.
It's easy, natural, and effective.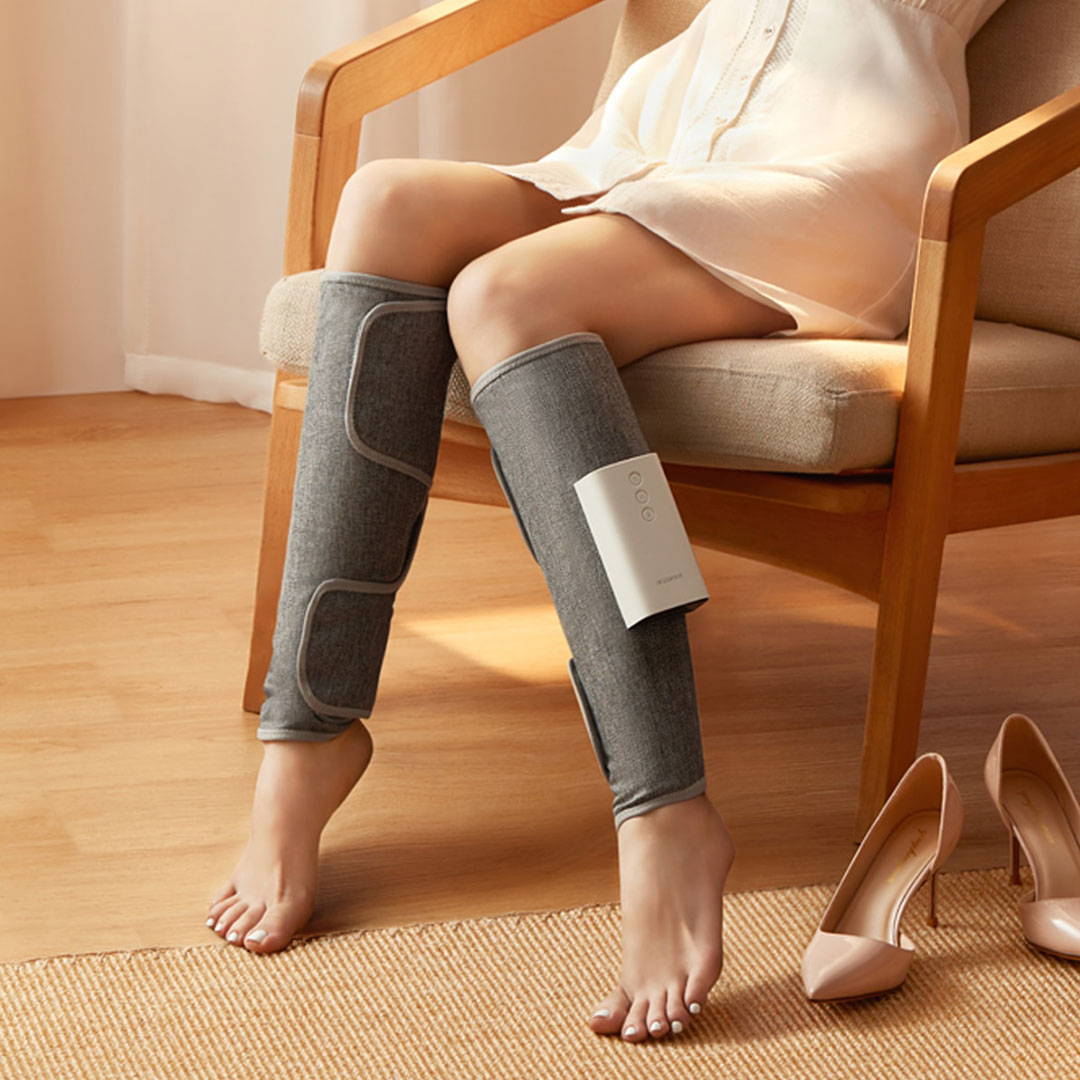 Endless Therapy Sessions
Imagine having a physical therapist on-call at your house 7 days a week, specifically dedicated to making your legs feel healthy and fresh.
Always ready to provide near-instant relief when you need it most. After a long day of work, or immediately after waking up while you're still checking your phone.
Using knowledge from years of research to apply pressure on all the right muscles, and nerves to relieve RLS, stiffness, fatigue, and much more.
What kind of impact could this have on your life? Less pain, worrying, and stress. More strength, optimism, and enjoyable moments!
---
Activated Air Compression

Did you know frequent massages over a consistent period of time can have HUGE benefits?
It's true.
However, spending upwards of $2500-$3000 and 30+ hours per month for daily massages is only possible for rich people with nothing to do.
That's where air compression becomes the best option. Combining sequential compression with reflexology, you're able to get a precisely calculated massage with the push of a button.
Each session will stimulate hard-to-reach pressure points, muscles, and nerves in a specific sequence designed to increase blood flow, oxygen, and nutrients in your legs.
Leaving them fresh, energized, and ready for anything life throws at them.
---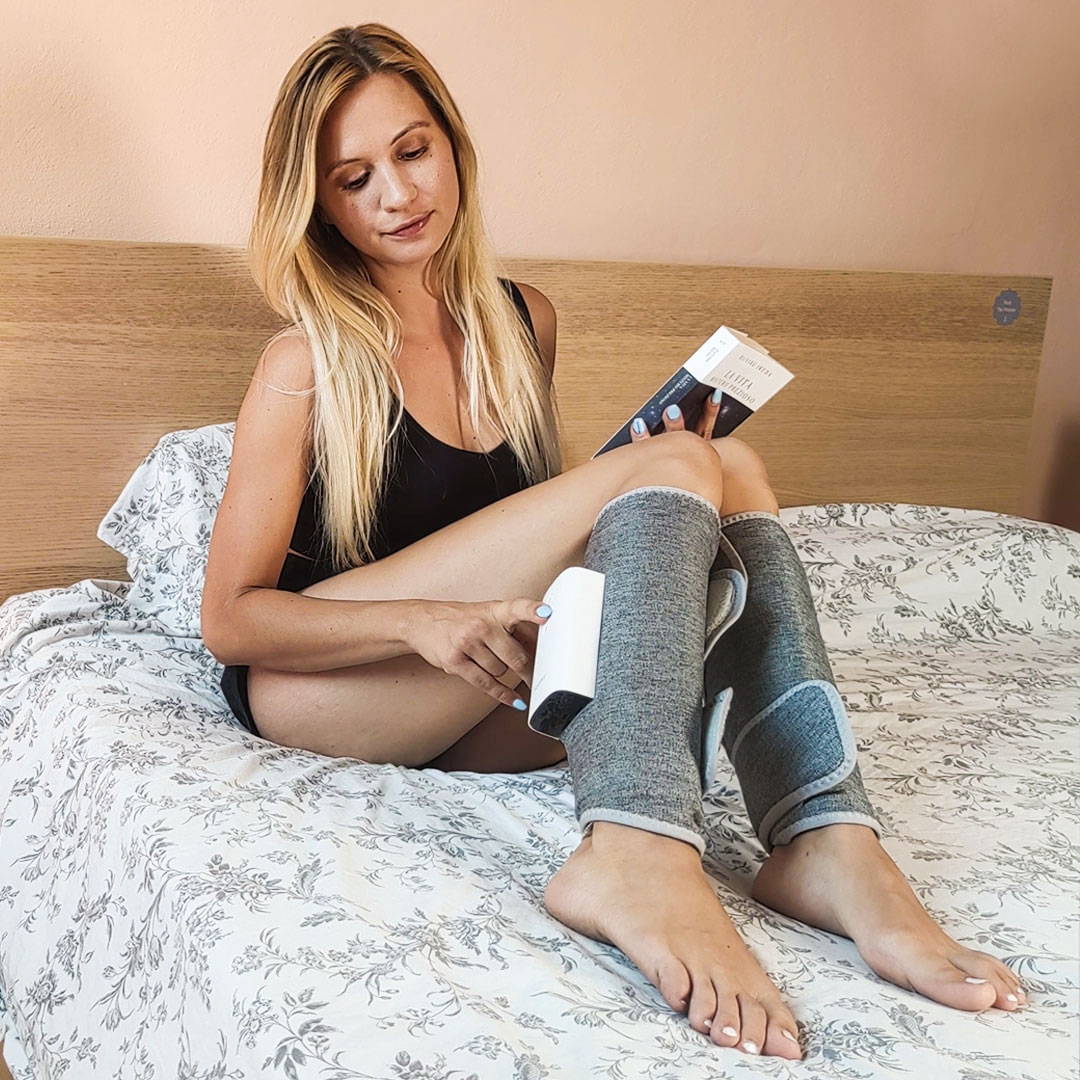 Designed For You
Made for both men and women, this device was meticulously crafted to be simple and enjoyable to use.
Choose from 3 custom massage modes, 2 different intensities, and various heating levels to create a perfectly tailored massage for you.
The adjustable easy on-and-off Velcro wrap fits any leg size and makes it great for sharing with other family members.
This device is also 100% wireless, so you aren't stuck near a power outlet or restricted with tangled cords, which means you can recover while working, driving, or pretty much-doing anything.
How It Works?
---

What's in the Box?
Leg Massager Wrap
Quick-Start Guide
USB-C Charging Cable
30 Day Money-Back Guarantee
Product Details
Rated Voltage: 5V
Battery Capacity: 2600 mAh (Lasts up to 5 hours)
Charging: Standard USB Type
Automation: 30-minute massage intervals
Massage Principle: Sequential Compression & Kneading
Frequently Asked Questions
How long does the battery last?
The battery will last up to 5 hours on regular massage mode, 3 hours on low temperature, and 2 hours on high-temperature massage mode.
What is the 30 Day trial?
If within 30 days you received the product, you are not satisfied with your leg massager(s), just send them back and we will refund you right away. No questions asked.
Does it come with instructions?
Yes. Easy-to-follow instructions are included.
Are you still shipping during the COVID-19 Outbreak?
Yes! Our shipping services remain open despite the COVID-19 outbreak and regulations.
How long will it take for my order to arrive?
Most orders arrive in 7 to 15 business days once shipped. In some rare cases, it can take longer.
Please contact our customer support team at support@bracewarrior.com with any questions.
Love Them or Your MONEY-BACK
⭐⭐⭐⭐⭐
Still Have Questions? Contact support@bracewarrior.com